Self-Guided Group Experience
Available for groups of 10 people or more, at a cost of $15 per person.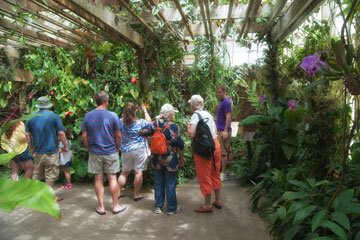 Minimum group size of 10 is needed to receive a discount. The group must submit only one form of payment for the total amount to quality for the group discount.
No additional discounts or coupons can be used in conjunction with the group rate.
If your group has Selby Gardens' members in it, they are admitted at no charge. Members' guests are $5 each. The amount of guests a member may bring in varies depending on the level of their membership.
Guided Tour
Available for groups of 10 people or more, at a cost of $20 per person.
A guided tour is one of the most satisfying ways to experience the Marie Selby Botanical Gardens. Led by trained and qualified guides, these tours allow groups to explore diverse areas of the Gardens, examine unique flora and learn more about the natural world.
Tours must be booked at least two weeks in advance and are not guaranteed if a guide cannot be confirmed. To arrange a guided tour, or to discuss your group's visit, email or call (941) 366-5731 ext. 239.
A $50 non-refundable deposit is required to book a guided tour. This deposit will be deducted from your total admission due on the day of your tour. In order to provide you with discounted admission rates, we request that you pay with either one check, credit card or cash when you arrive the day of your tour. If members of your group prefer to pay individually, we will not be able to offer discounted rates.
No additional discounts, coupons or guest passes can be used. Selby Gardens members must pay admission, as their guest privileges don't extend to guided group tours.
Tours begin at 10:30 a.m. and 1:30 p.m. and last for approximately 1 – 1½ hours. These times are slightly flexible if your group would prefer a different start time or a shorter tour.
Comfortable shoes and attire are suggested.
Please see Tips for A Successful and Full Visit to make the most of your experience at the Gardens.
For groups touring the Gardens, Local Coffee + Tea offers a special menu and other accommodations. Continental breakfast, large group coffees (up to 300 people), boxed lunches or an afternoon reception with light appetizers and beer, wine or champagne can all be arranged. Contact us for more information.