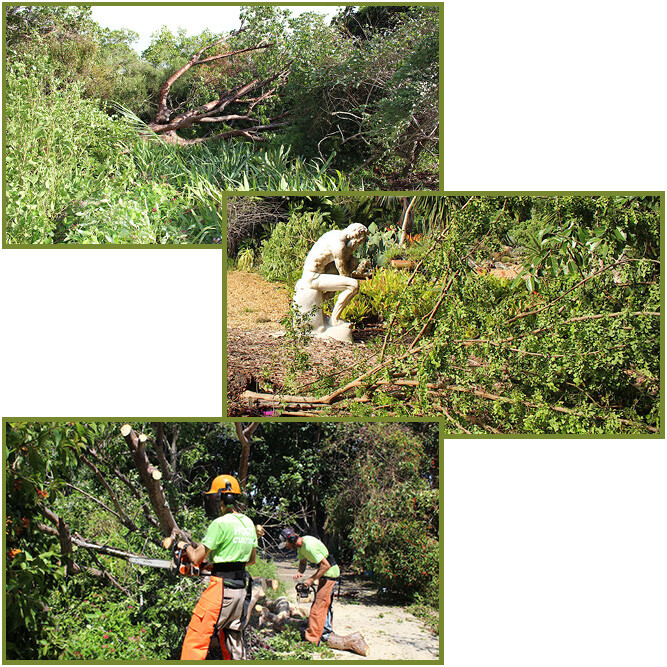 You've seen Nature's immense power displayed in many ways. If you were in Florida during Hurricane Irma, you undoubtedly saw Nature's stronger side. We hope you made it through relatively unscathed and that your friends and family are safe.
You value Selby Gardens for its natural beauty and serenity, but this storm gave us a taste of Nature's capacity for damage. For the most part, Selby Gardens was lucky, but we did suffer damage:
Nine irreplaceable mature trees, including a treasured Gumbo Limbo, went down, and many more trees lost large branches and foliage.
The Tropical Conservatory sustained broken panes of greenhouse glass and other structural damage.
Roofs in aging buildings sprung leaks, and the entire 15 acres of Gardens was paved with storm debris.
Your Gardens were closed for a week as teams of staff members and our wonderful volunteers repaired, raked and cleaned. It was a labor of love, and we are incredibly grateful to all those who helped.
At last count, the financial toll of storm preparation and cleanup tallied at nearly $100,000 with work still to be done. The funds spent on hurricane preparation and cleanup would normally be used for important mission activities such as conservation and research programs, education programs for thousands of school children, the care of our valuable scientific collections, and ensuring that the breathtaking beauty of this tropical oasis continues to provide balm for the soul.
You can help Selby Gardens with your gift today. Thanks to the Amicus Foundation, every dollar you contribute – up to $70,000 – will be doubled by a generous match. Your $100 gift becomes $200, $500 becomes $1,000, and $1,000 becomes $2,000.
It will only take you a moment to contribute. Remember, every dollar you give will provide two dollars for Selby Gardens.
Thank you for your gift! Your support is a demonstration that goodwill is one of the greatest forces in Nature.
Click here by December 31 to double your gift!