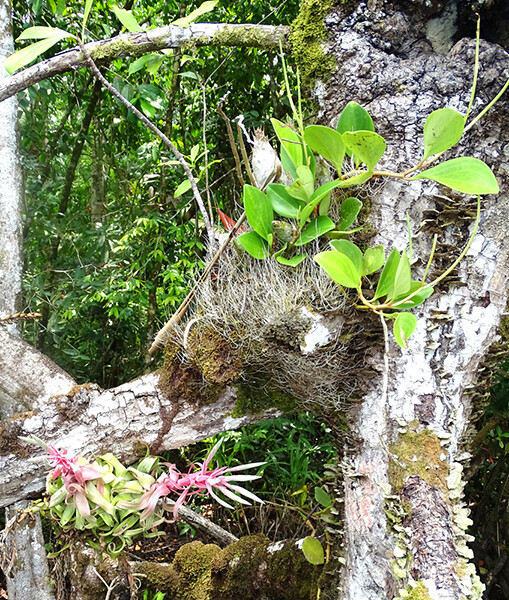 Epiphytic bromeliads (Tillandsia streptophylla), peperomias (Peperomia obtusifolia), and orchids (Catasetum integerrimum) grow on a red mangrove (Rhizophora mangle) in Sarstoon-Temash National Park in southern Belize. Photo by Bruce Holst
OVERVIEW:
Belize is the second smallest country in Central America, slightly larger than El Salvador, but has by far the lowest population density of any of the countries. The latter fact is a blessing for its biodiversity, and its forested areas harbor a rich and diverse flora.
EPIPHYTE DIVERSITY:
We estimate Belize has well over 650 species of epiphytic, hemiepiphytic, and lithophytic plants, which account for approximately 15% of the country's species-level diversity. These include many plant families and genera. See the Table for a summary of each epiphytic plant family with numbers of genus and species diversity.
These numbers are based on extensive literature and herbaria survey, and include the results of field surveys by staff and volunteers from Selby Gardens and its partners in 38 distinct areas of the country, literally from east to west, and north to south, resulting in over 3000 collection records of living and preserved specimens (2014 to 2016). Living specimens are being maintained at Selby Gardens and Caves Branch Botanical Garden; the first set of herbarium specimens is being deposited at the Belize National Herbarium (BRH) located at the Forestry Department headquarters in Belmopan, the second set at Selby Gardens (SEL), and further sets to be distributed to taxonomic specialists around the world. Field collections included some terrestrial species of trees, shrubs, and vines, in addition to the epiphytes.
IDENTIFICATION GUIDES TO SOME EPIPHYTES OF BELIZE:
Tillandsia (Bromeliaceae) of Belize (9.1 mb)
Spiny Bromeliads of Belize (7.9 mb)
Common Bromeliads of Belize, Poster (4.8 mb)
The following guides are in draft form. Updated versions will be placed above as soon as they are ready.
Epiphytic Fern Genera of Belize  (2.7 mb)
Smooth-leaved Bromeliaceae of BELIZE (excluding Tillandsia)  (1.6 mb)
Epiphytes and Lithophytes of Mayflower Bocawina National Park, Stann Creek District, Belize (760 kb)
TABLE:
Numbers of genera and species for each vascular epiphyte and lithophyte known in Belize, divided below into seed plants and spore-bearing plants. The combined total is: 34 families, 183 genera, and 656 species.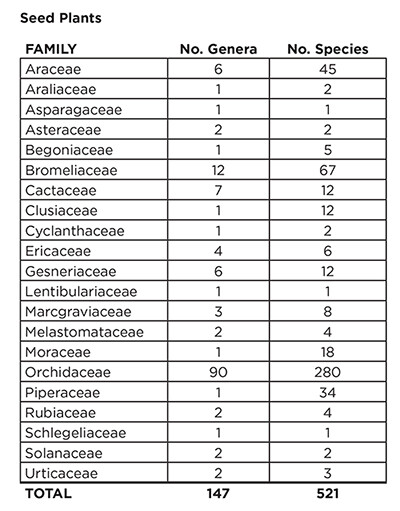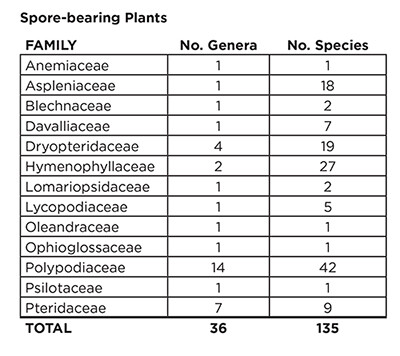 Acknowledgments: Selby Gardens thanks its partners at Ian Anderson's Caves Branch Botanical Garden and Ian Anderson's Caves Branch Adventure Company for financial support and for the help of its talented staff, especially the horticulturists and guides. The Environmental Resource Institute of the University of Belize also participated on several expeditions and provided logistical support and access to the national herbarium in Belmopan, and the Belize Forestry Department also provided significant logistical assistance. Several other organizations and individuals provided greatly appreciated logistical and other support: Lamanai Outpost, Chan Chich Lodge, Belcampo Lodge, Inn by the Sea, Mountain Equestrian Trails, Bull Run Overseas, BFREE, Friends of Conservation and Development, Peter Durhager, Mike Bogaert, Roni Martinez, and Tony Rath. Dale Kammerlohr generously provided financial support for travel and fieldwork.