Music In the Gardens returns to Selby Gardens this fall with four weeks of aural delights. As always, the series gives you a fantastic variety of talented artists from local and international artists, as well as beautiful views and relaxing walks through the Gardens. Michael's on East will sell grilled goods; a perfect accessory to your Sunday.
TROLLEY WILL BE AVAILABLE 11 a.m. – 5 p.m. from Sarasota Friendship Center (1888 Brother Geenen Way
)
FREE with admission. No discounts before 3 PM. Reciprocals $10.00
Please do not bring any outside food or beverages.  You are welcomed to bring your own lawn chairs or blankets.  Selby will provide a limited amount of seating on a first-come, first served.  Parking is available on site on a first-come, first-served basis.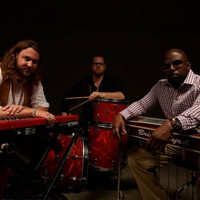 November 12  –  THE BIRD TRIBE
​The Bird Tribe's unique expansive sound is lyrically poetic with a mixture of heavy groove, Rock, and Soul, with an experimental feel.  The Bird Tribe's soulful music is a beautiful journey through the spectrum of sound.  They bring an exciting and uplifting energy, and a true love of sharing their art.
Event Sponsors