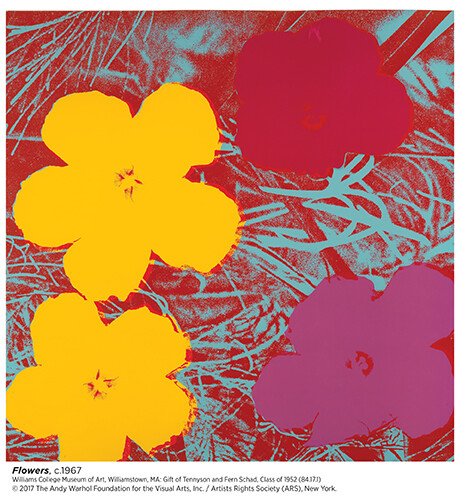 Consummately cosmopolitan and cool, Andy Warhol in the great outdoors seems like an oxymoron. Yet the groundbreaking artist known for his Pop Art multiples of celebrities and soup cans created more than 10,000 images of flowers over the course of his career. Warhol: Flowers in the Factory showcases the surprising, and little examined, role of nature in Warhol's art and life. The spectacular 15-acre tropical setting of Marie Selby Botanical Gardens on Sarasota Bay will provide a matchless context for examining Warhol's fascination with the natural world in this focused, immersive exhibition.
Warhol: Flowers in the Factory is curated by Carol Ockman, Ph.D., curator-at-large of Marie Selby Botanical Gardens and the Robert Sterling Clark Professor of Art History at Williams College. It will be on view exclusively at Selby Gardens in Sarasota, Florida, from Feb. 11 through June 30, 2018.
EXPLORE THE EXHIBITION:
Conservatory
Warhol consistently tested traditional boundaries between art and life, and thanks to his perpetual curiosity, the natural world offered a still underappreciated influence on his career.
In the glass house, our horticultural designers have drawn inspiration from Warhol's work, using the repetition of shapes and textures, along with bright pops of color, to create vivid scenes of  living art. Lead by the gravity-defying features that make epiphytes so versatile and resilient, plants on display such as bromeliads, ferns and orchids flout conventional presentations.
Gardens
As part of this exhibition, the grounds of Selby Gardens have become Warhol's floral playground. Several outdoor plant scenes – or vignettes – capture the playful spirit of the artist using striking colors, modular planters that are ever-changing in their patterns and unexpected pop culture references.
Also look for special signage that identifies living plants that are within the same plant families of the plants featured in our museum; Hibiscus comes from the Malvaceae, or mallow family, and the poinsettia is part of the Euphorbiaceae family.
The Museum of Botany & the Arts
Upon entering historic Payne Mansion, home to the Museum of Botany & the Arts, you will encounter:
Archival photographs of Warhol, his artist friends from The Factory, and images that capture the cultural context that propelled Warhol to fame during the time of the rise of "Flower Power;"

A selection of Warhol's floral-inspired works, including the Polaroid Christmas Poinsettias (1982), which inspired the prints on view; lithographs Flower (1957) and Happy Bug Day (1954); and artist book In the Bottom of My Garden (1956); and

Six stunning paintings that capture Warhol's fascination with flowers.
About the paintings:
Four of the artist's silkscreens entitled Flowers, on generous loan from the Williams College Museum of Art.
Two prints entitled Poinsettias, on loan from the private collection of Sarasota art patron Flora Major.
RELATED EVENTS:

LECTURES
EXHIBITION KEYNOTE BREAKFAST: WARHOL'S FLOWER POWER
VARIATIONS ON A THEME: ANDY WARHOL AND HIBISCUS
WARHOL-RELATED CLASSES:
PRINT THE WARHOL-INSPIRED GARDENS Session I
POP ART INTO THE BUTTERFLY GARDEN, WARHOL-STYLE
HIBISCUS EARRINGS INSPIRED BY WARHOL
GELLI PLATE PRINTING A LA WARHOL
ADD POP! TO YOUR WRITING RETREAT
PRINT THE WARHOL-INSPIRED GARDENS Session II
SPONSORS:
LEAD SPONSORS: Amicus Foundation • Betsy and Doug Elder • Gulf Coast Community Foundation • State of Florida, Department of State, Division of Cultural Affairs and the Florida Council on Arts and Culture
MAJOR SPONSORS: Gerri Aaron • Maryann and James Armour • Better-Gro • BMO Private Bank • The Doris M. Carter Family Foundation • Margot and Warren Coville • Drs. Andrew and Judith Economos • Gold Coast Eagle Distributing • Ernest R. Kretzmer • Flora Major • Katherine and Frank Martucci • So Staged • Williams Parker Harrison Dietz & Getzen
SUPPORTING SPONSORS: Beverly and Bob Bartner • Linnie E. Dalbeck Memorial Foundation • Dart Foundation • Marcy and Michael Klein • The Woman's Exchange
ADDITIONAL SPONSORS: Teri A Hansen • Aimee and Chris Cogan/Maria and Allen Heise • Charlotte and Charles Perret