You, our Members, are the reason for so much of what Selby Gardens does, and each November we celebrate you! Please join us for an interesting and informative annual meeting followed by the opportunity to pick up your free Member plants. The gates open to Members at 8 AM and the meeting begins promptly at 9 AM. Plant distribution begins immediately following the meeting.
After the meeting members can claim their complimentary plants*  (based on membership level), and be first to purchase additional plants before the Members-only Plant Sale opens to the public at 12 PM. PLUS…the Garden Shop will have a special 60% OFF sale in the classroom (NOTE: No additional discounts for members, volunteers or staff). Enjoy the Gardens on a day dedicated to YOU!
SCHEDULE:
8 AM: Check In – Mansion Gate – Please remember to bring your Membership ID
9 AM: State of the Gardens – The Annual Meeting, Jennifer O. Rominiecki, President and CEO
10 AM to 12 PM: Member Plant Distribution  (distribution will close at noon or when we run out of plants)
10 AM to 12 PM: Members' Plant Sale
12  to 2 PM: Plant sale opens to non-members
TROLLEY WILL BE AVAILABLE 8 a.m. – 3 p.m. from Sarasota Friendship Center (1888 Brother Geenen Way
)
This year's plants list:
1701 Apocynaceae
Hoya imperialis 'alba'  –  Imperial Hoya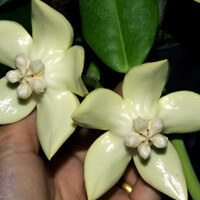 This rare white form of a sought after Hoya from the Philippines is definitely not your usual garden variety plant.  It bears wavy leathery green leaves which produce large spectacular white flowers once mature. The unusually large jaw-dropping waxy white flowers are sweetly fragrant at night. This species produces one of the largest individual flowers in the genus. Best if grown in hanging baskets in a well drained medium under filtered light and will thrive if allowed to dry out between waterings.
1702 Araceae
Amorphophallus titanum  –  Titan Arum/Corpse Plant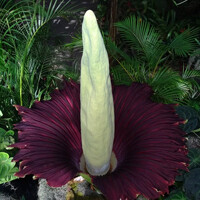 These seedlings are the progeny of Seymour and Audrey, our famous titan arums. If you've been following us on Facebook, their rare but consistent choreographed blooming cycle allowed us the opportunity to cross pollinate and produce the most stunning infructescence. These titans germinated in our research greenhouses and will make a great addition to any serious tropical plant collection.   This giant aroid likes it hot so protect from temperatures below 60, keep its soil evenly moist when actively growing, but keep the soil on the dry side  when dormant.
1703 Bromeliaceae
Vriesea fosteriana  –  'Red Chestnut'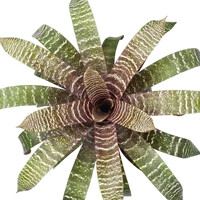 Endemic to Brazil, this stunning bromeliad is a must have in any bromeliad collection, but its highly ornamental look will standout in any garden setting. Red Chestnut displays maroon red coloration on the newer foliage decorated with cream colored horizontal banding. As the plant ages, a rusty red color covers the entire foliage.  Grown best under filtered light conditions, keep water in their vases at all times but these bromeliads like to dry out at a soil level so plant in well drained potting medium.
1704 Cactaceae
Rhipsalis clavata  –  Mistletoe Cactus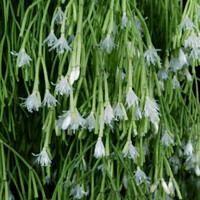 This rare Brazilian species of epiphytic cactus is known from about six sites that are all mostly limited to protected areas. Listed as Near Threatened by the International Union for Conservation of Nature and Natural Resources, this attractive cactus presents many small white flowers that can appear several times a year.  Its epiphytic nature shows in its heavily branched smooth pencil-like stems that can hang down 6 to 7 feet.   The best thing about this extremely rare cactus is its ease of care.  Best if grown in hanging baskets in a fast draining epiphytic medium in filtered light.
1705 Malvaceae
Pavonia multiflora  –  Brazilian candles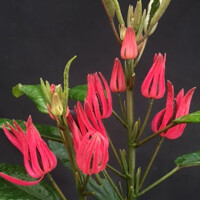 Native to Brazil, this glossy leafed hibiscus relative is a garden must-have due to its prolific and consistent flowering, often year round.  Sporting shiny red to pink bracts that surround the cone-shaped twisted purple flowers and its protruding dark blue stamens, this plant will soon become one of your favorite garden residents.  Grows best in full to partial sun and can be easily pruned to maintain a suitable or desired shape.
1706 Melastomataceae
Medinilla sp. 'Gregori Hambali'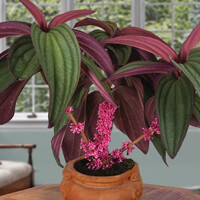 This Medinilla is from Papua New Guinea and is as rare a plant as it comes.  The leaves are hot pink underneath and has a bright green quilted leaf surface.  Even more spectacular than its highly ornamental leaves, two or three times a year you'll be rewarded when its stems become flush with hot pink flower clusters .  This Medinilla needs careful watering & fertilizing, and it is best if propagated whenever possible. Protect from temperatures below 50 degrees and use a well drained medium.
1707 Orchidaceae
Cattleya intermedia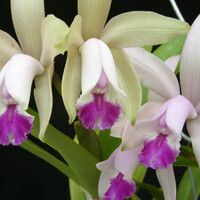 This stunning Cattleya is a Brazilian native that showcases pale lavender-pink flowers atop a bifoliate pseudobulb that is a must-have for any orchid enthusiast. A true gem among the Cattleya alliance due to its ease of care and showy long lasting, sweetly fragrant flowers.  This species is best grown in a high light setting planted in a bark-based orchid mix that is never allowed to dry out completely.
1708 Orchidaceae
Rhyncholaeliocattleya Hawaiian Prominence 'America'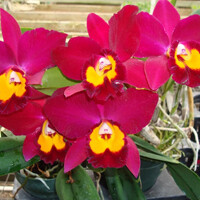 This intergeneric hybrid is a perfect example of the great breeding programs of Hawaii.  Its flowers seem painted in a deep crimson color that surround an especially attractive yellow to orange ruffled lip.  This striking color combination stand out and easily become one of your favorites.  Grows best in high light planted in a bark-based orchid mix.
1709  Orchidaceae
Vanda Princess Mikasa 'Pink'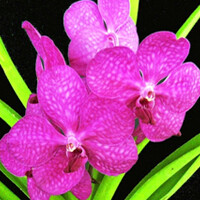 A beautiful Vanda hybrid that carries many long lasting large pink flowers with bright magenta tessellations displayed on a compact plant.  This breathtaking Vanda often exhibits many bloom spikes multiple times a year.  Best if grown in a slatted orchid basket in a filtered light setting.  Vandas require regular watering and protection from temperatures under 50 degrees.
1710 Orchidaceae
Dendrobium Samarai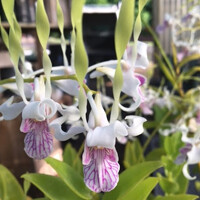 This Dendrobium will quickly become one of your favorite orchids when it displays its strange insect like flowers. This medium to large sized, hot growing orchid is resilient and easy to grow. A primary hybrid of Dendrobium stratiotes and Dendrobium antennatum, this incredible orchid doesn't disappoint, showcasing an inflorescence of  captivating flowers that sport tall greenish-yellow twisted sepals above its purple to pink lip. This impressive Dendrobium will thrive under high light and do best if kept well-watered and well fed during the growing season.  Reduce watering during its winter rest period until new shoots begin to develop in the spring.